Hardware Overview#
A NextBox consists of the following hardware components:
Raspberry PI 4 Type B

Nitrokey NextBox (aluminum) case

Internal hard-drive (SSD or HDD)

NextBox Reset Shield

Various smaller parts (internal wiring, connectors)
The casing is made out of aluminum and a passive thermal design. There are no glued components and the case can easily be opened using a Phillips screwdriver. Please keep in mind that opening the case will void your warranty and it is generally not recommended to open the case for the non-professional user, especially as this might damage the thermal conductivity and therefore the heat dissipating capabilities of the NextBox might suffer.
In general the NextBox exposes all ports, which are available on the Raspberry PI 4 and one additional USB Type C port for a better accessible power supply connector. In the following a short description of the different connectors and interfaces is given.
Hardware button for Factory-Reset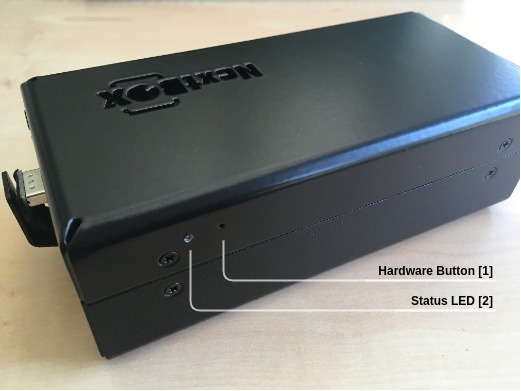 USB Type-C / Power Supply connector is designated as a replacement for the stock connector on the front side and is exclusively for supplying power to the NextBox and cannot transfer data.
Hint
The right side of the NextBox is designed so that all mandatory interfaces can be accessed from this side.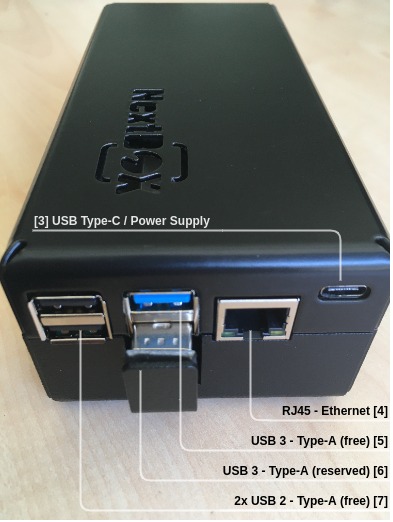 The RJ45 - 1GbE Ethernet connector connects your NextBox with your home network and shall stay connected at all times.

Free USB 3 - Type A Slot, please see Hardware FAQ

Reserved USB 3 - Type A Slot, used for the internal hard-disk. Never remove this connector!

2x Free USB 2 - Type A Slots, please see Hardware FAQ
Hint
Using a hard-drive with an external power supply you can use any of the available USB slots. Keep in mind that the data transfer bandwidth for the USB 2 slots is less compared to the USB 3 slot.
USB Type-C / Power Supply (stock) connector, can be used as [3]

Micro HDMI 1 slot, usable but not needed.

Micro HDMI 2 slot, usable but not needed.

Headphone Jack, usable but not needed.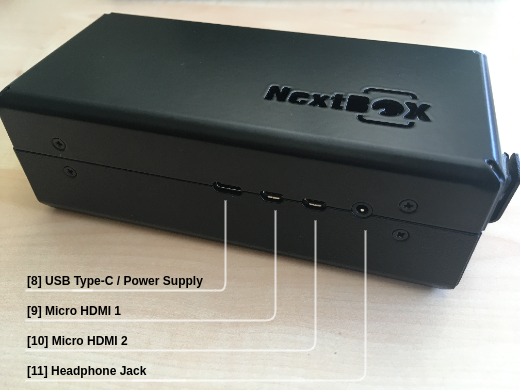 Hint
The front interfaces are all optional and not necessary for NextBox usage in general. While the USB Type-C/Power Supply may be used, the alternative on the right side of the NextBox can be used to have all wiring convenient on one side.